It's #WUFO Time!
This is #WUFO Week 30! Holy crap! 
If you're new, here's a FAQ that will get you started. Reminder: send us a picture of your completed punch card and we'll send you a little something in the mail!
At its very core, WUFO is a fun break from the week to hang out and enjoy each others' virtual presences. You can do as little as go outside (or check a sky cam) at 10 PM your local time, or as much as hosting your own WUFO watch party (virtually or IRL)! WUFO has also created itself in a way and is continuing to grow all on its own – we're here for the ride, wherever it may take us. We're glad you're here, too!
TONIGHT!  Bex is on an Epic Road Trip, and (signal allowing) will call in with a LIVE report from an undisclosed location. Garrett and Jeremy will tell stories and do some show-and-tell! We'll pull some cards, do some weird experiments, and see what happens!
Weekly Live Contact Session
Gone are the days where you need to check various socials for our weekly live contact sessions – now, you can watch the stream right here at 8:30 PM PST. Hit that bell icon to turn on notifications for this event!
Stargazing Side Quest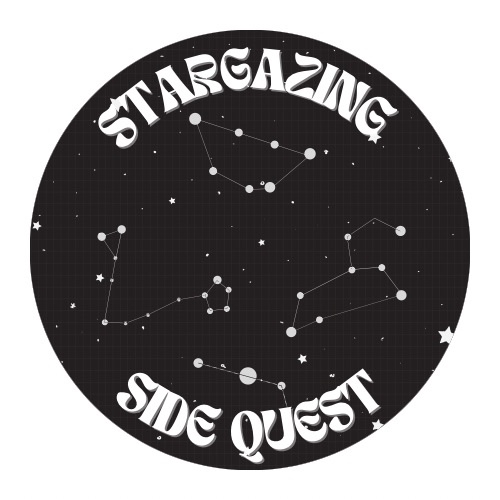 Your Wednesday Night UFO Watch party side quest is here, courtesy of Astrologer Extraordinaire Maighdlin Kelly:
For the week of 10 August 2022 we will be looking for the constellation OPHIUCHUS! 
I used to think this wasn't on the ecliptic and that's why astrologers don't use it, but that's not the case – one of his lil feets just touches the ecliptic as you can see in the pic below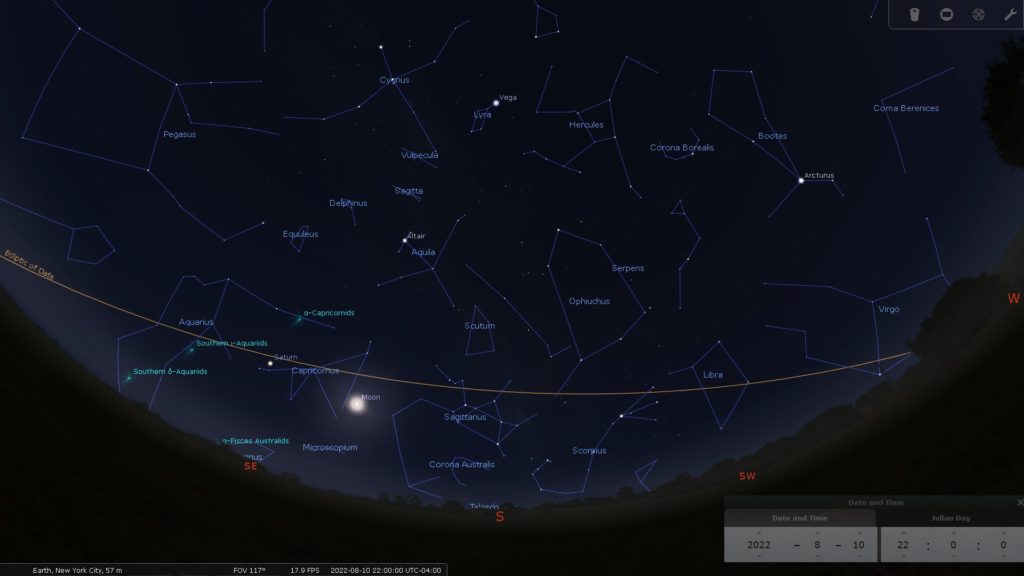 Ophiuchus is north of the ecliptic while Scorpius is south. Why is Ophiuchus not included in the tropical or sidereal zodiacs? This episode of the astrology podcast goes into it more, but the short answer is: because astrology focuses on everything on the ecliptic, and Ophiuchus rises with scorpius so its significations were just tied into scorpius. The constellations have different altitudes, but the same azimuth. This is why Vega, for example, is said to be at 15° when it's actually nowhere near the ecliptic. Astrologers project everything to the ecliptic, earth's orbit around the sun, because we humans perceive the universe through a geocentric perspective. We know it is not the "one true perspective", and that's why the zodiacs are said to exist in our heads. The 12 equal segments of 30° in the sky came from us – it's all perspective. Finding Ophiuchus is pretty easy because its right above Scorpius. Scorpius' distinctive curled tail is (imo) as easy to find as Orion. We already found Scorpius in a previous #WUFO side quest too, so if you were there for that you should have no trouble finding Ophiuchus tonight Be sure to tag us with your stargazing side quest achievement!
Consider joining Maighdlin's Patreon here for more Astrology awesomeness.
Shop WUFO Merch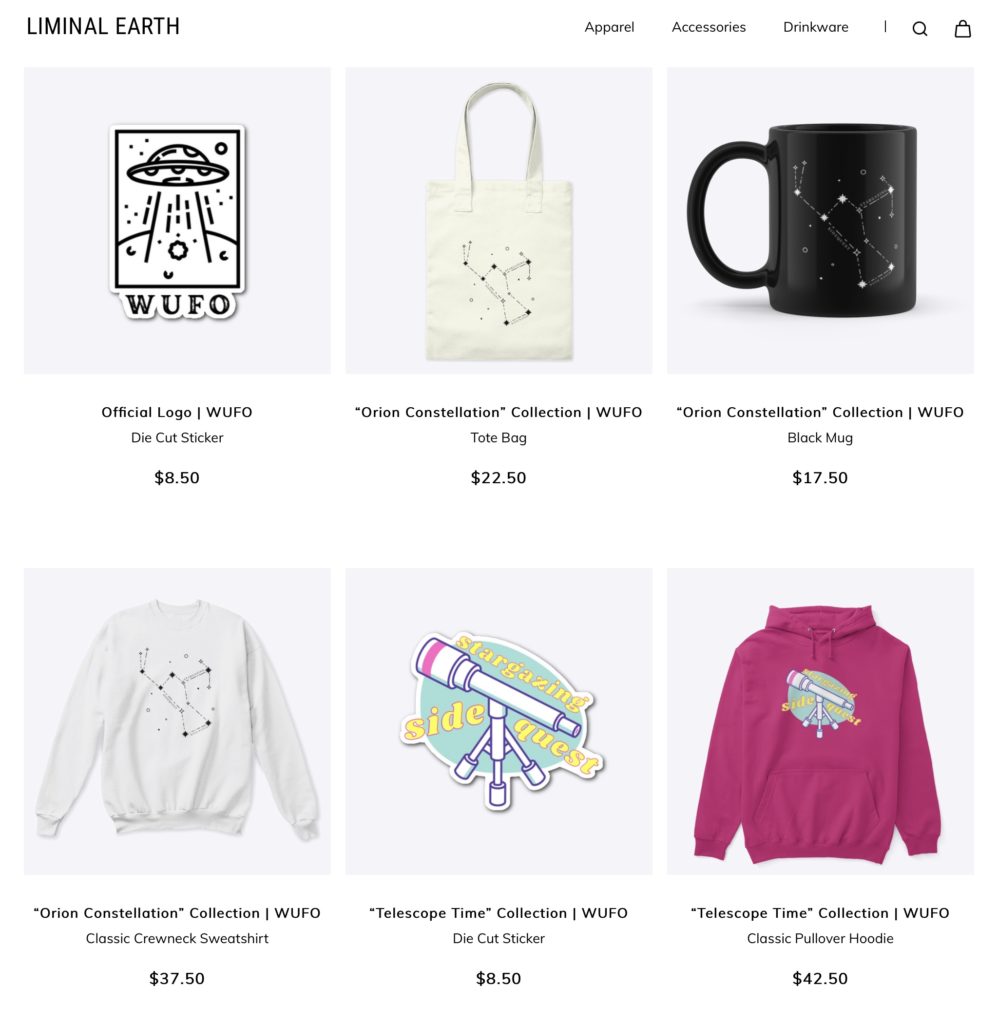 You can visit our shop here. Right now, the shop has both WUFO and Liminal Earth merch, but it this will soon be a WUFO-only shop. Also: we are offering FREE SHIPPING each and every Wednesday! Use code WUFO at checkout!
This is an excellent way to support WUFO as we put a lot of time and energy into making each week as awesome and accessible for folks as possible!
Last Week's Recap
Last week we had a PAJAMA PARTY! We all wore our jammies (except for Jeremy, who wore a funny t-shirt and a turkey hat) and talked Tarot, the intersection of art and magic, and dreams. Then, Bex went under and took a journey filled with water imagery and CHEESE.
After the live stream, Garrett went outside in his long-johns and used some cheese to fish for Aerial Entities!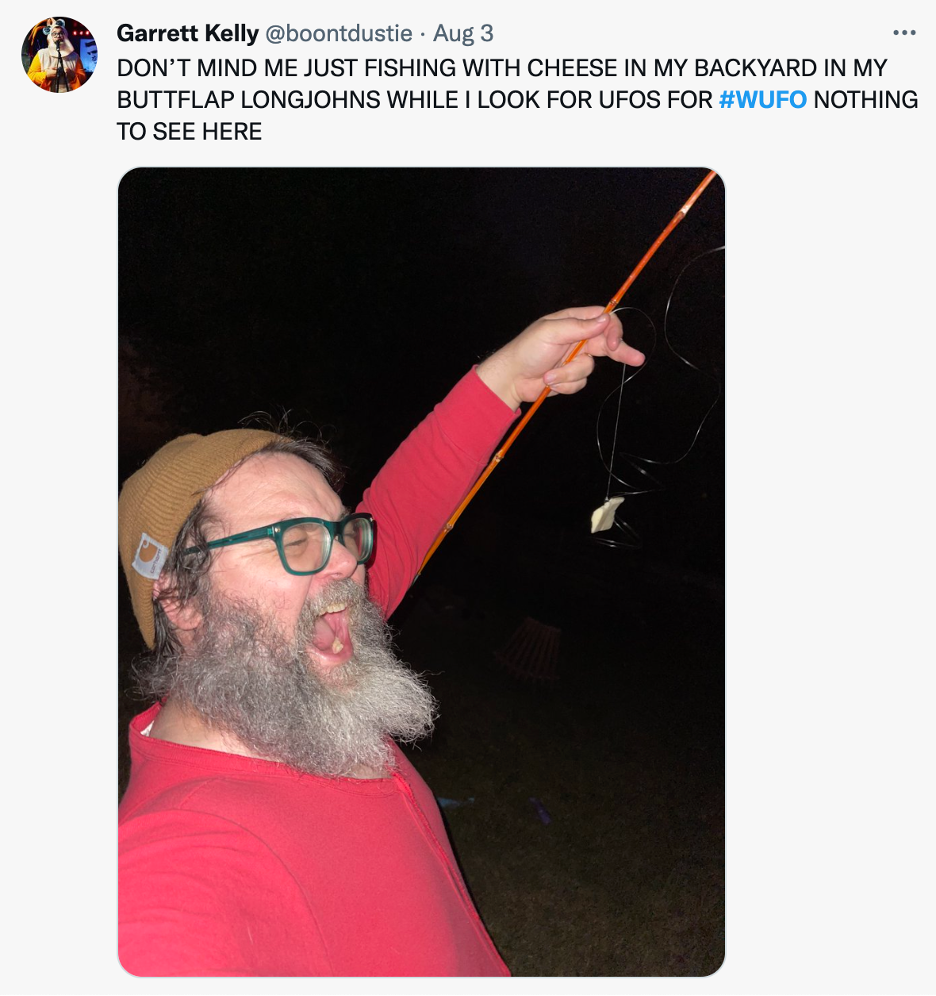 Let's see how other folks spent WUFO last week: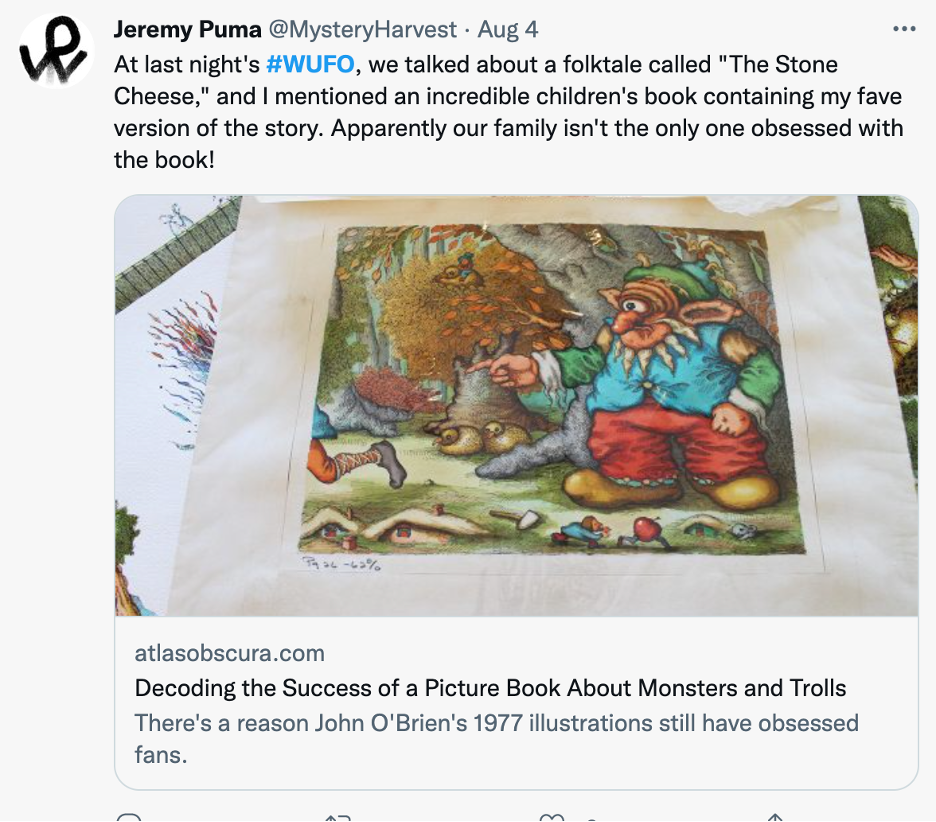 Tonight's Plan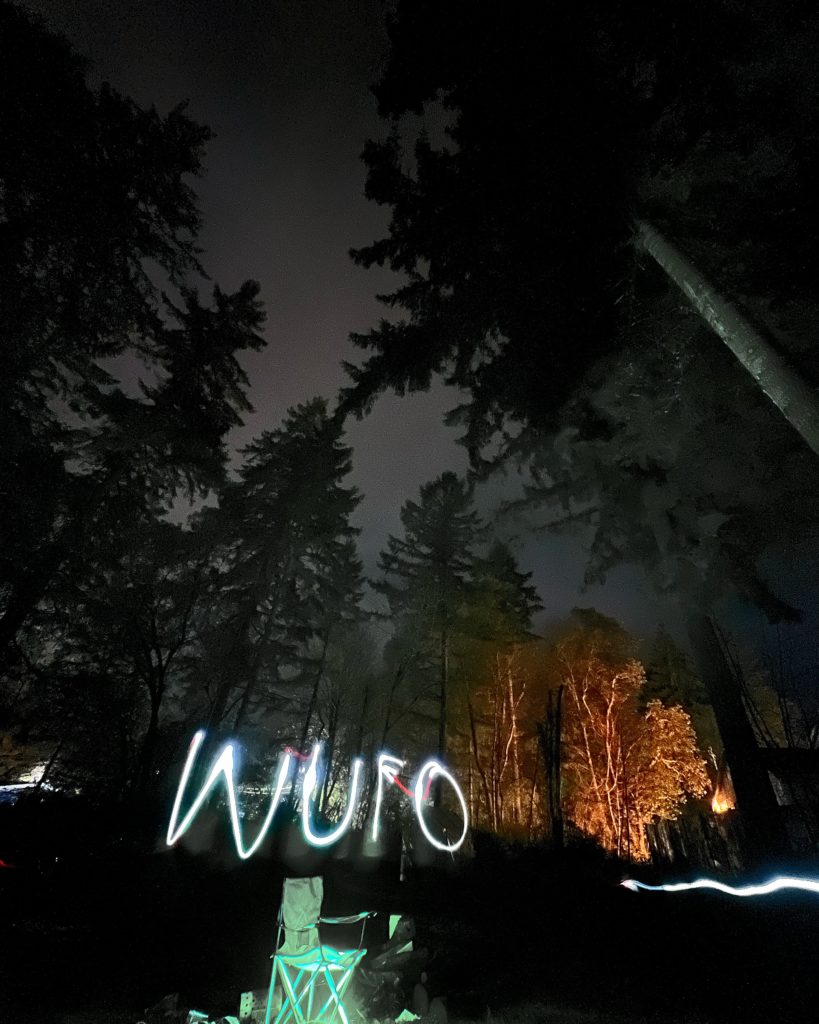 Tonight's WUFO Checklist:
Set out UFO water
Gather snacks
Boost/donate to this week's fund
Perform some groundwork/light meditation
Join our weekly Live Contact Session at 8:30 PM PST
Use a night sky app or head outside to participate in the Stargazing Side Quest
Commune with nature and/or your loved ones
Take a pic of your setup/activities and use tag #WUFO
As always, we are conducting our weekly live contact session right here, this time at 8:30 PM PST. Join us for some card pulls and an Estes Method session! If you're wanting to watch directly from this site, all you have to do click the video above when it's time!
Once 10:00 PM PST rolls around, we will head outside to look up and spend some time gazing at the sky. Bring plenty of snacks, blankets, and maybe some hagstone binoculars (if you just happen to have some around, like Jeremy). This concludes today's WUFO post – we are SO excited for tonight's watch! Who's going to be "looking up" with us?!