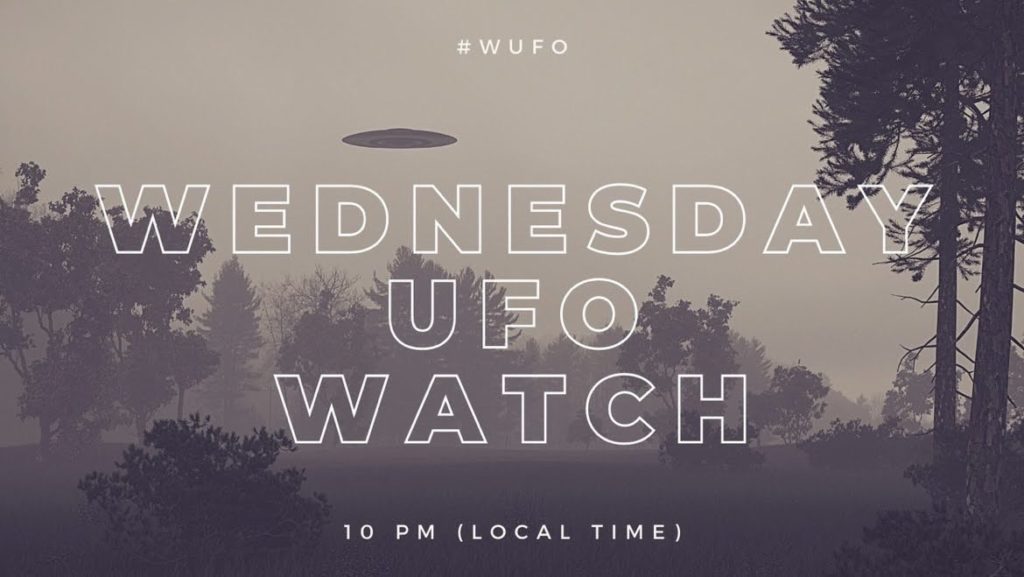 It's #WUFO Time! This is #WUFO Week 18! If you're new, here's a FAQ that will get you started. Reminder: send us a picture of your completed punch card and we'll send you a little something in the mail!
At its very core, WUFO is a fun break from the week to hang out and enjoy each others' virtual presences. You can do as little as go outside (or check a sky cam) at 10 PM your local time, or as much as hosting your own WUFO watch party (virtually or IRL)! WUFO has also created itself in a way and is continuing to grow all on its own – we're here for the ride, wherever it may take us. We're glad you're here, too!
Weekly Live Contact Session + Special Guest
Gone are the days where you need to check various socials for our weekly live contact sessions – now, you can watch the stream right here at 8:30 PM PST. Hit that bell icon to turn on notifications for this event!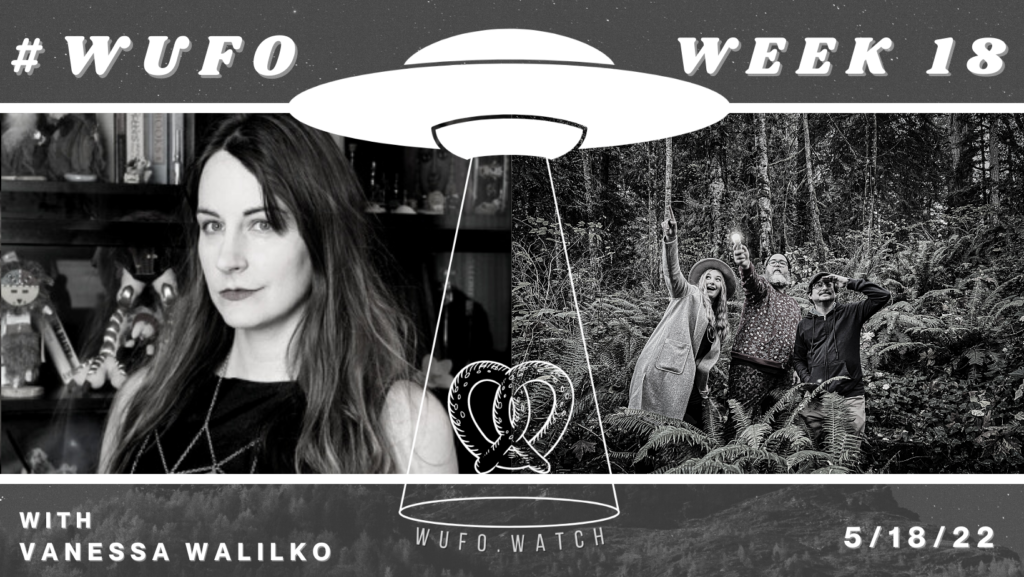 This week, we're excited to welcome our friend Vanessa Walilko, host of Personal Pans Podcast!
Vanessa Walilko is a maker of chainmail, designer of crafts, and magician of chaos.  She's been obsessed with ghosts, aliens, and all things strange since she was a kid but kept her liminal interests mostly to herself until a couple years ago.  She loves talking about weird things with cool people on her podcast Personal Pans and is one of the co-organizers of PanParacon, an online paranormal conference dedicated to creating an affirming, inclusive space for weirdos of all kinds.  If you want to look at her chainmail or book a tarot reading, visit http://kalibutterfly.com.
This is going to be a blast!
Shop WUFO Merch
You can visit our shop here. Right now, the shop has both WUFO and Liminal Earth merch, but it this will soon be a WUFO-only shop. Also: we are offering FREE SHIPPING each and every Wednesday! Use code WUFO at checkout!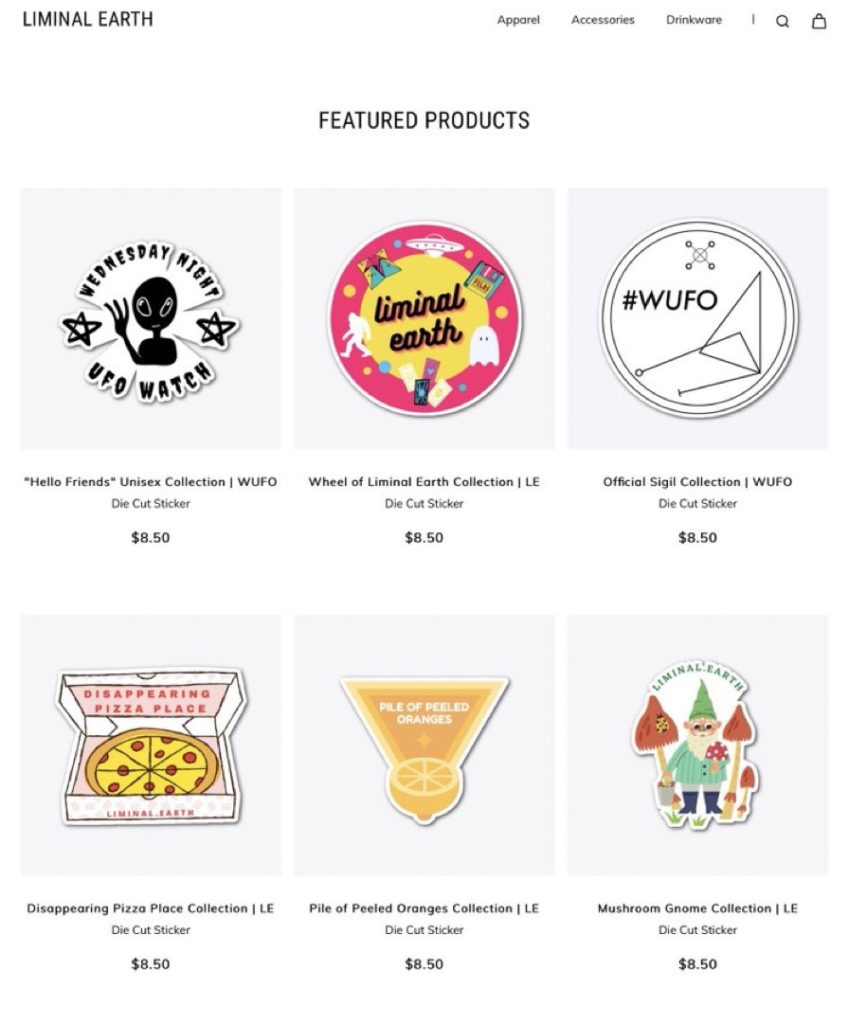 This is an excellent way to support WUFO as we put a lot of time and energy into making each week as awesome and accessible for folks as possible!
Stargazing Side Quest
Your Wednesday Night UFO Watch party side quest is here!
Courtesy of Astrologer Extraordinaire Maighdlin Kelly:
For #WUFO 18 on 18 May 2022 we will be looking for the biggest constellation in the night sky: HYDRA
To find Hydra, face south and start from one of our previous side quests: Regulus, Spica, Virgo, Corvus, then look for a wavy line of stars beneath it. Hydra is so big its below all of those! In fact it spans all the way from Cancer to Libra!
Here's a link to learn more about this constellation. Remember to tag #WUFO with your astrophotography, sky sketches, and UFO reports!
Consider joining Maighdlin's Patreon here for more Astrology awesomeness.
Now let's catch up with last week's WUFO!
Last Week's Recap
Last week, we were joined by our friend Kaj Jensen! This session's inspiration came from Garrett and Bex's extraordinary ferry encounter with orcas the week prior (watch the TikToks here and here)! It's a natural progression to then contemplate the potential links between orcas and aerial entities. Before we knew it, our goal was to attempt communication with nearby orcas through these routine contact session practices.
Bex went "under" for an Estes Method session using a special MP3 crafted by John E.L.Tenney. Garrett listened to a hydrophone live audio stream from Port Townsend like a spirit box session and typed out his impressions on the screen for all to read! We also had hydrophone sounds playing for all to hear, in hopes that we'd hear orca sounds. Kaj and Jeremy asked questioned, pulled cards, and provided commentary.
This session was so much fun! You can watch the full, unedited stream by joining Liminal Earth's Patreon for just $1!
The official transcript of this session is currently being drafted – when it's finished, you can find it here.
Now let's see what our fellow WUFOers got into last week: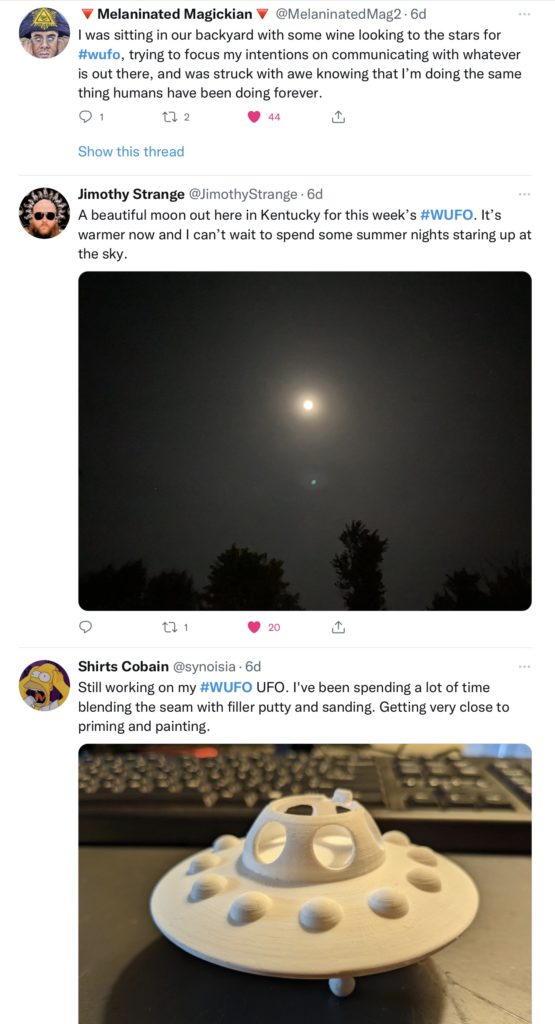 Fun thing: a big theme of WUFO has been giving/receiving gifts with these entities. We might as well create a list of all the things over the course of 18 weeks, but! Last week, the morning after WUFO, Garrett woke up to this pretty rock in his bed.
Tonight's Plan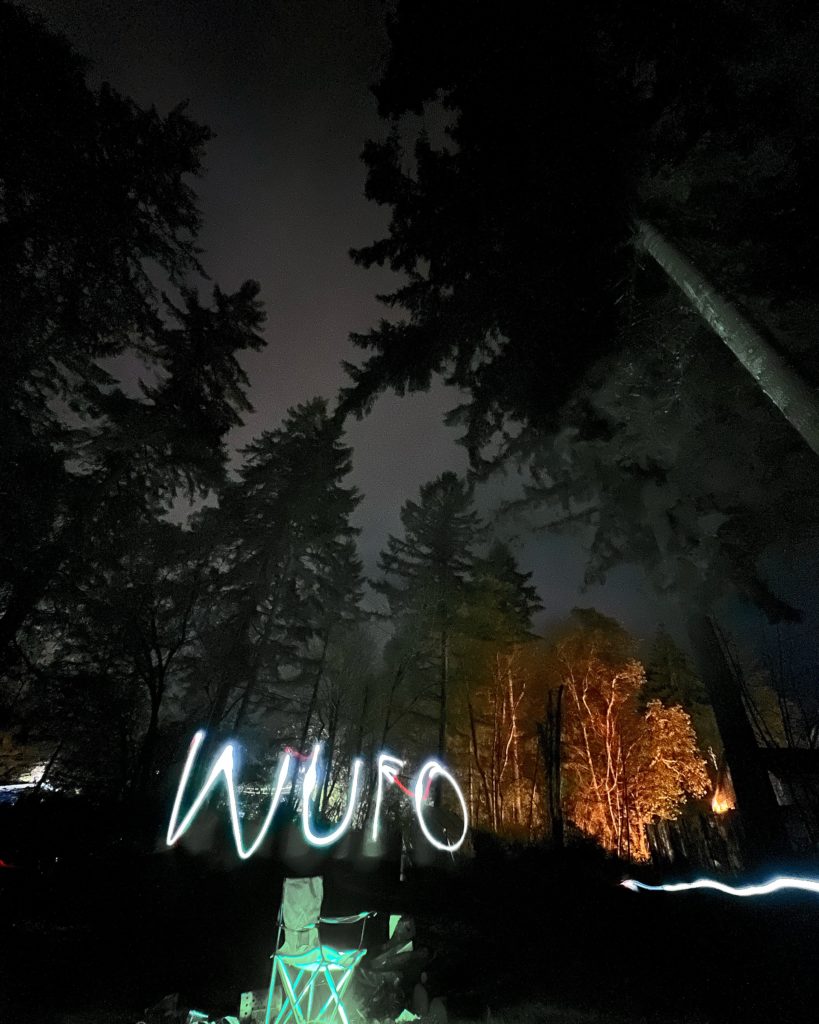 Tonight's WUFO prep will include making more UFO Water, setting up another element altar (loving this idea from Katie, and serving as a more formal offering space too), and cleansing our contact space. Some light meditation/grounding beforehand is also recommended!
This week we'll also be raising donations for the Black Love Resists in the Rust – they are based out of Buffalo, and are working to link people to and pay for ongoing mental health services. They also be partner with Colored Girls Bike Too and other community members and orgs to ensure folks in the community have access to fresh foods.Visit wufo.watch/donate or https://donate-usa.keela.co/mental-health-and-food-support and consider donating to this important cause. Special thanks to Amanda Woomer (@SpookEats) for bringing this cause to our attention – she has been collecting donations through her PayPal & Venmo @SpookEats to help pay for unexpected funeral costs and immediate supplies for victims and families of Buffalo, NY. Feel free to send funds her way too!
As always, we are conducting our weekly live contact session right here, this time at 8:30 PM PST. Join us for some card pulls and an Estes Method session! If you're wanting to watch directly from this site, all you have to do click the video above when it's time!
Once 10:00 PM PST rolls around, we will head outside to look up and spend some time gazing at the sky. Bring plenty of snacks, blankets, and maybe some hagstone binoculars (if you just happen to have some around, like Jeremy). This concludes today's WUFO post – we are SO excited for tonight's watch! Who's going to be "looking up" with us?!