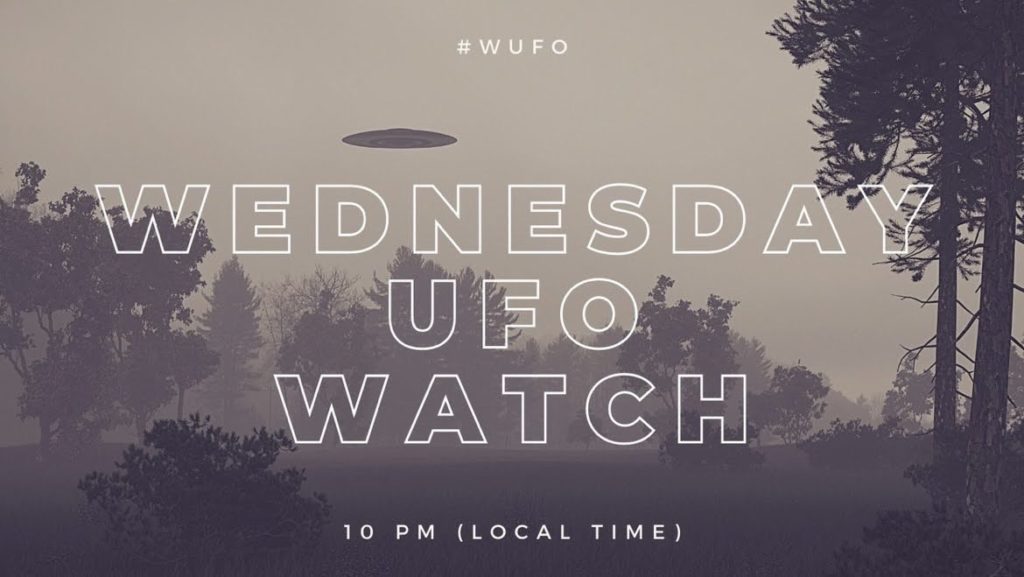 #WUFO is here once again – this is Week 13! That's 3 whole months of Wednesday UFO action, and then some! If you're new, here's a FAQ that will get you started. If y'all have been keeping up with your punch cards since the very beginning, you should be on your last spot tonight! Send us a picture of your completed punch card and we'll send you a little something.
Weekly Live Stream!
Gone are the days where you need to check the socials for our weekly live contact sessions – now, you can watch the stream right here at 9:00 PM PST. Hit that bell icon to turn on notifications for this event!
Shop WUFO Merch!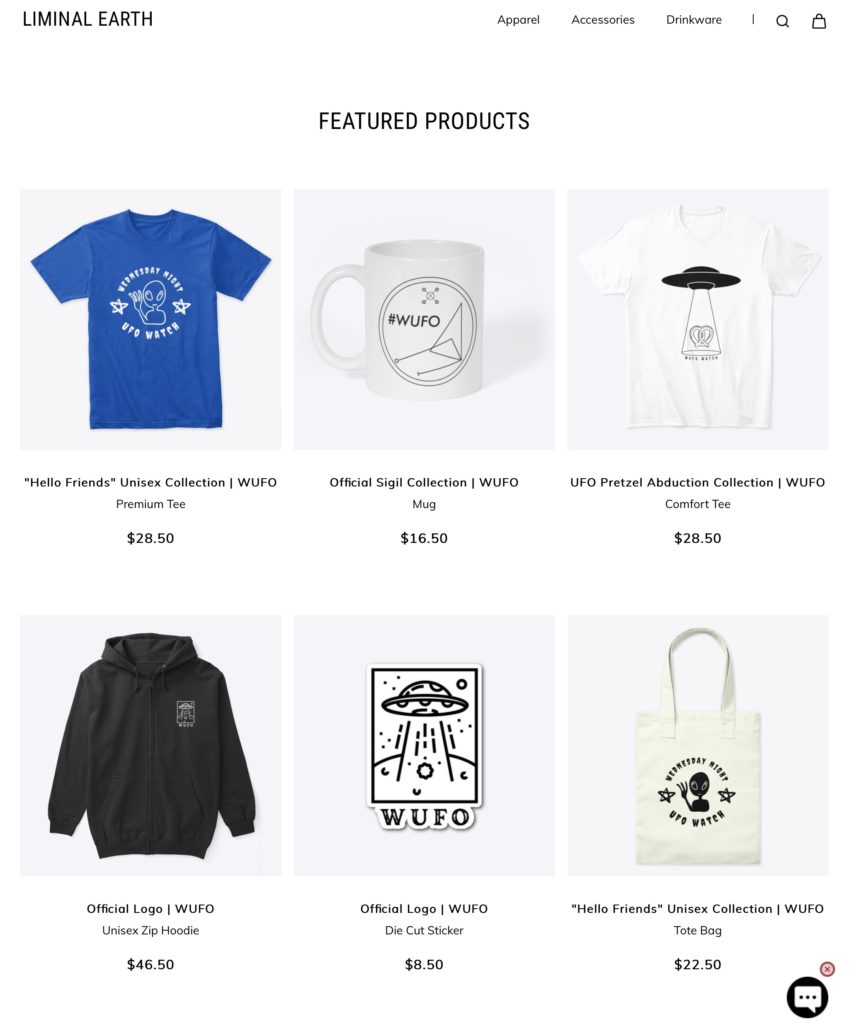 You can visit our shop here. Right now, the shop has both WUFO and Liminal Earth merch, but it this will soon be a WUFO-only shop. Also: we are offering FREE SHIPPING each and every Wednesday on orders over $20! Use code WUFO at checkout!

We have also released 2 NEW designs today, giving a special nod to Maighdlin's Stargazing Side Quests! Shirts, stickers, mugs, and more – check it out.
WUFO Press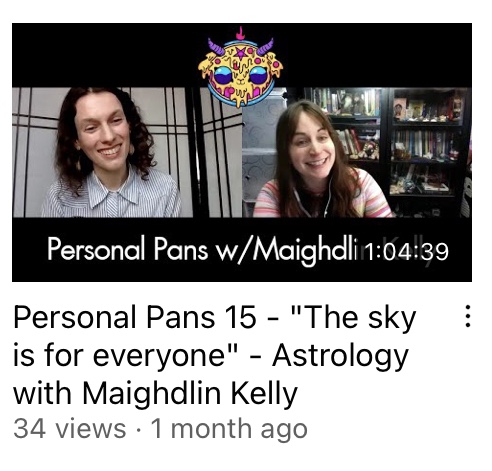 Recently, Maighdlin (Stargazing Side Quest creator and WUFO co-founder) was a guest on Personal Pans! They talk about astrology for everyone, and naturally that led to discussing WUFO! You can watch the entire episode right here. Also, shoutout to the host Vanessa for being awesome!
Stargazing Side Quest
Every week we'll be featuring an astronomical side-quest from estimable astrologer Maighdlin Kelly! While you're looking at the sky, take a moment to get to know it better.
Maighdlin says:
On 13 April 2022 we'll be looking for the 15th brightest star in the night sky and the brightest star in the constellation Virgo:
🌟 SPICA 🌟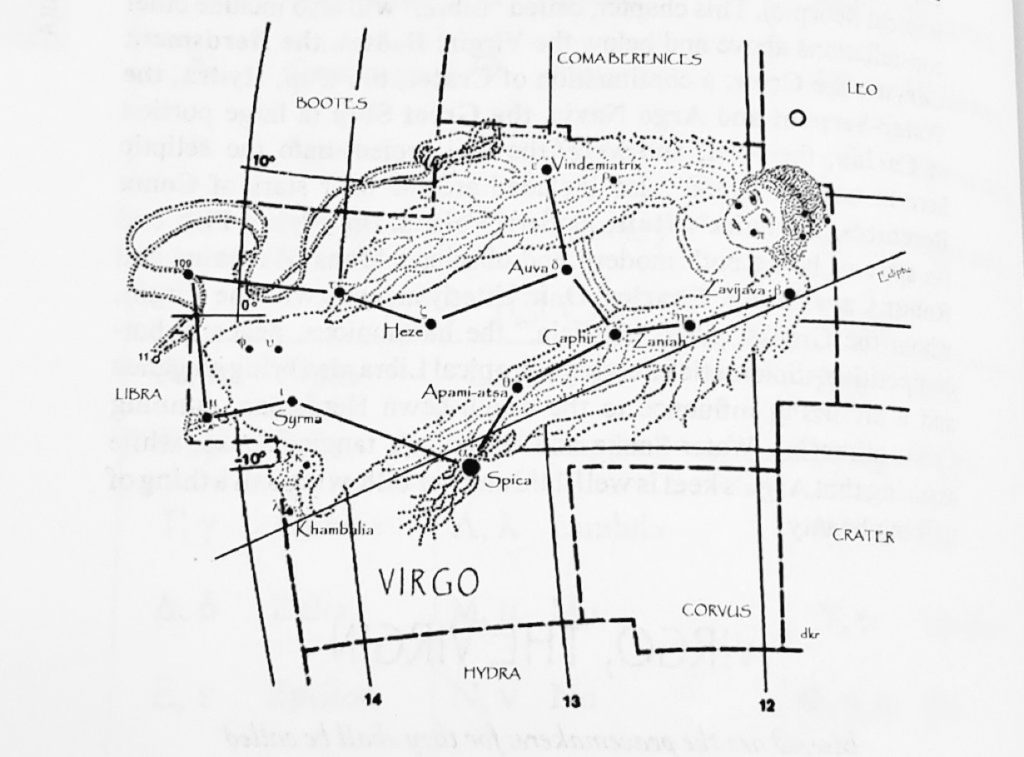 Spica will be easy to find tomorrow because the Moon will be nearby, right in between it and Regulus, the brightest star in the Leo constellation which we found in a side quest a few weeks ago.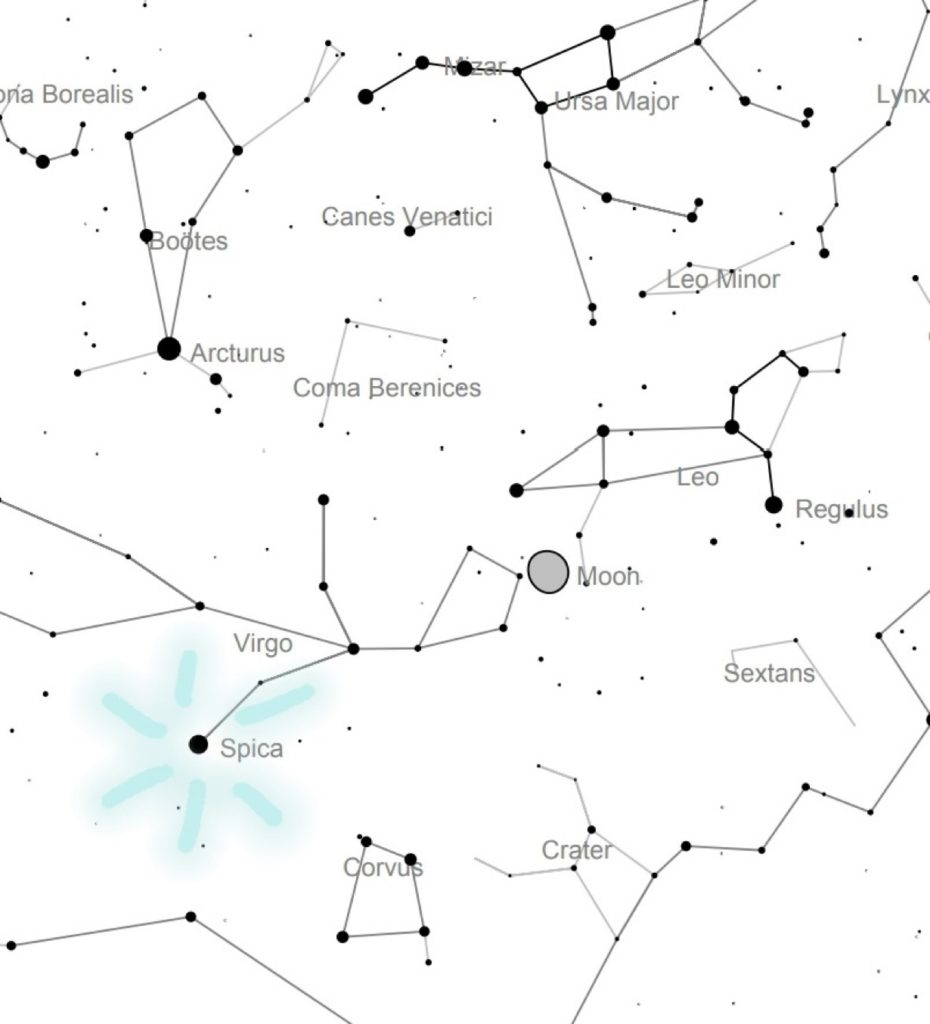 Spica is about as bright as Aldebaran, one of our early WUFO side quests, so if you found that & Regulus you should be able to recognize Spica in the sky pretty easily with all the star hopping we've been up to. Finding Spica this week will help you find next week's star btw!
In the tropical zodiac (based off earth's seasons as opposed to fixed stars) Spica is found at 23°50 Libra.
According to Diana K Rosenberg's "Secrets of the Ancient Skies" vol 2, Spica (and Arcturus), "…offer leadership, prominence, honors, power and extraordinary gifts…".
"… learning, religion and philosophy are usually important to those born under them."
"Here the bright stars of the peace-loving Virginia and protective Shepherd illuminate dark places in the soul of humanity." page 114-115.
Let us know if you find Spica or any UFOs Wed night! Don't forget to tag #WUFO so we can boost you!
📸 Virgo pic from Diana K Rosenberg's "Secrets of the Ancient Skies" Vol 2 page 18
📸 Sky map from Sky and Telescope's Interactive Sky Chart
Consider joining Maighdlin's Patreon here for more Astrology awesomeness.
Last Week's Recap
First, we had the pleasure of being joined by Amanda! She investigated the Walker-Ames house with us up in Port Gamble, WA last year. We love her and were so glad to have her along for the WUFO ride.
Together, we pulled 4 cards:
Buorth (oracle card) – comparable to the Universe card in tarot, the beginning and end of all things
Pip (oracle card) – the Joyous, represented by poison ivy and hawthorn, the relief you feel wash over you after a long battle with an ailment (like no longer being itchy from a poison ivy rash)
5 of Wands (Mushroom Tarot) – a time to look deeply into a situation and find another perspective
9 of Wands (Mushroom Tarot) – unforeseen difficulties and surviving, gaining wisdom through these events and choosing how to wield it
The official transcript for this session can be read here.
Key Moments/Messages:
A fruity pie
This energy. Palpable. Record it. "How do we record the energy?". Participate. "How do we participate?". A fruity pie.
Check this. A rose. And a lot of rocks. "Where are the rocks and the rose?". I can hear that. Things that we like.
Almost there. And tonight…It will begin. "What will begin tonight?". Not nearly. "Will it be like a new understanding of our universe?". If not, it comes.
"Maybe something to think on". In a dream. "I guess we sleep on it haha". In their dream. "In who's dream?". Moving. Going. "Is sometime going/moving?".
"Who will be the dreamer?". More water. A kind of water. I'm parched . "Can you speak to us through dreams?". It started off that way. "And now there are more ways? What other ways?". Earth thing. Never stop. "Are you connected to the earth?". I'll greet you. "Will you give us a communication in our dreams tonight?".
Consider becoming a Patreon of Liminal Earth to watch this and every single WUFO live contact session.
Guests are quickly becoming a regular thing during our live contact sessions – let us know who you'd like to see join us next! Hint: next WUFO will be on 4/20, and we have the most fitting guest joining us for the session. We'll event start the stream a little early (say around 8:30 PM PST) so we can have a bit more chit chat time before.
Speaking of friends, let's see how folks spent Week 12 of WUFO: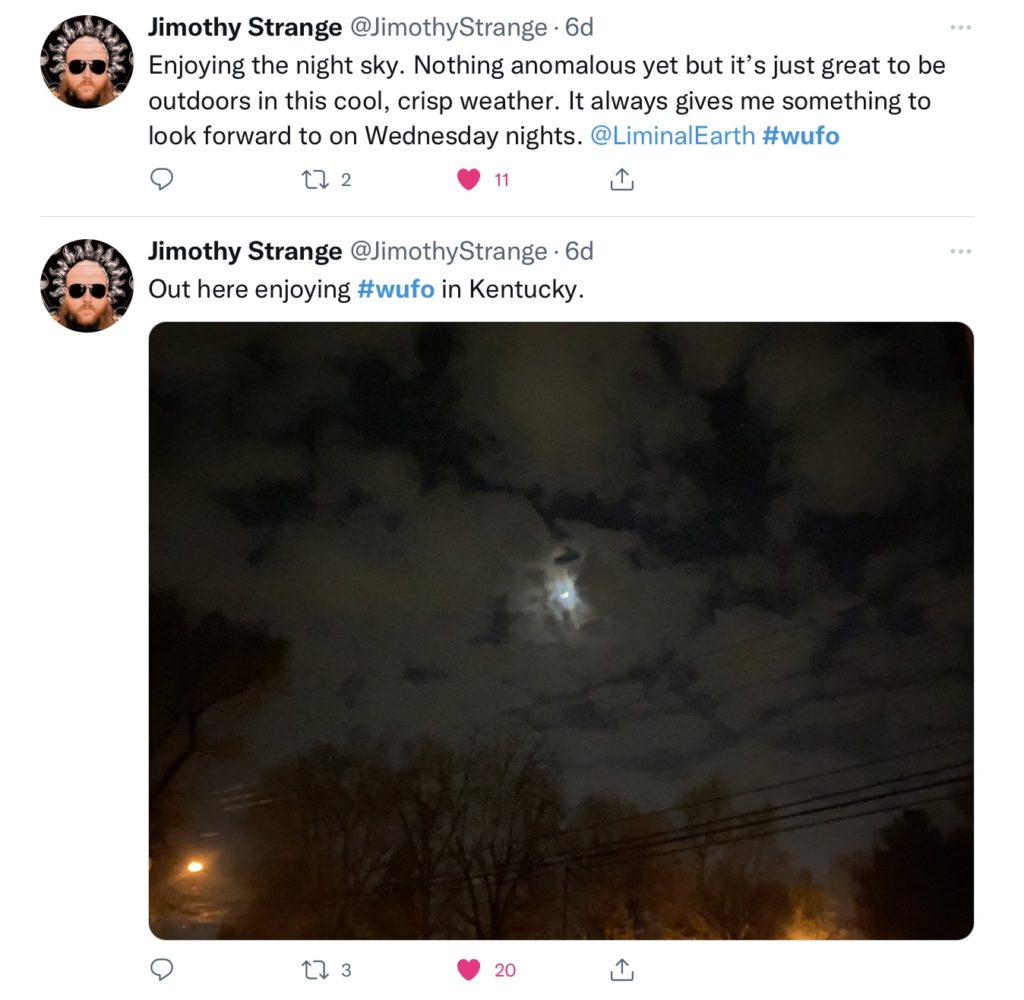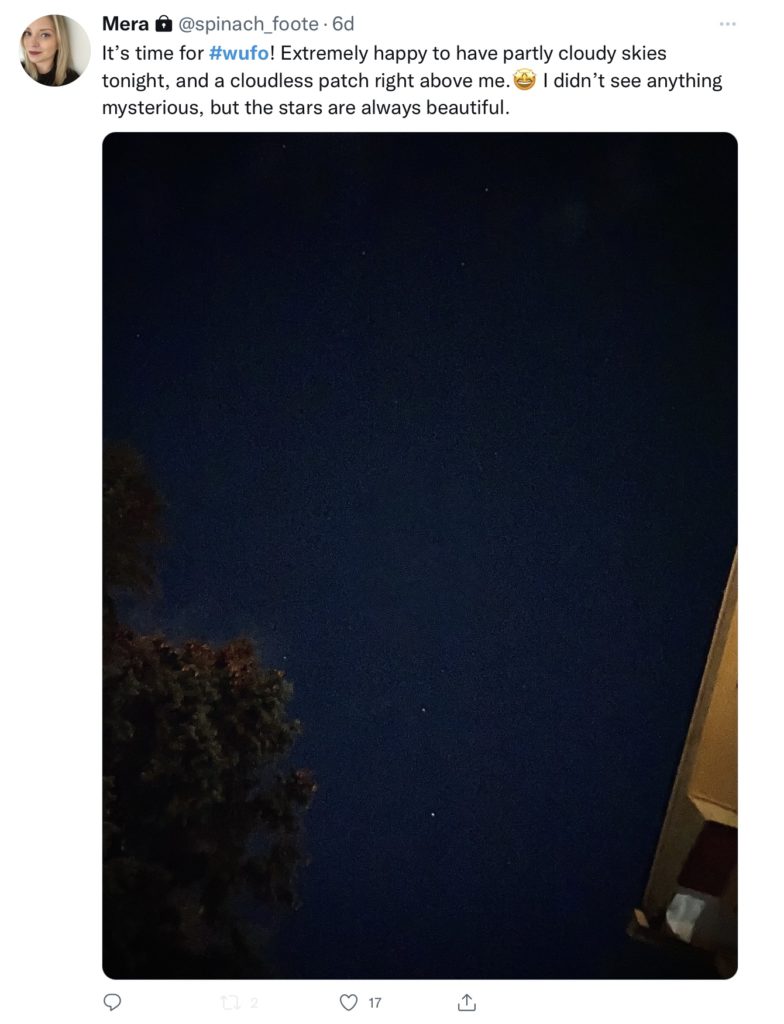 Tonight's Plan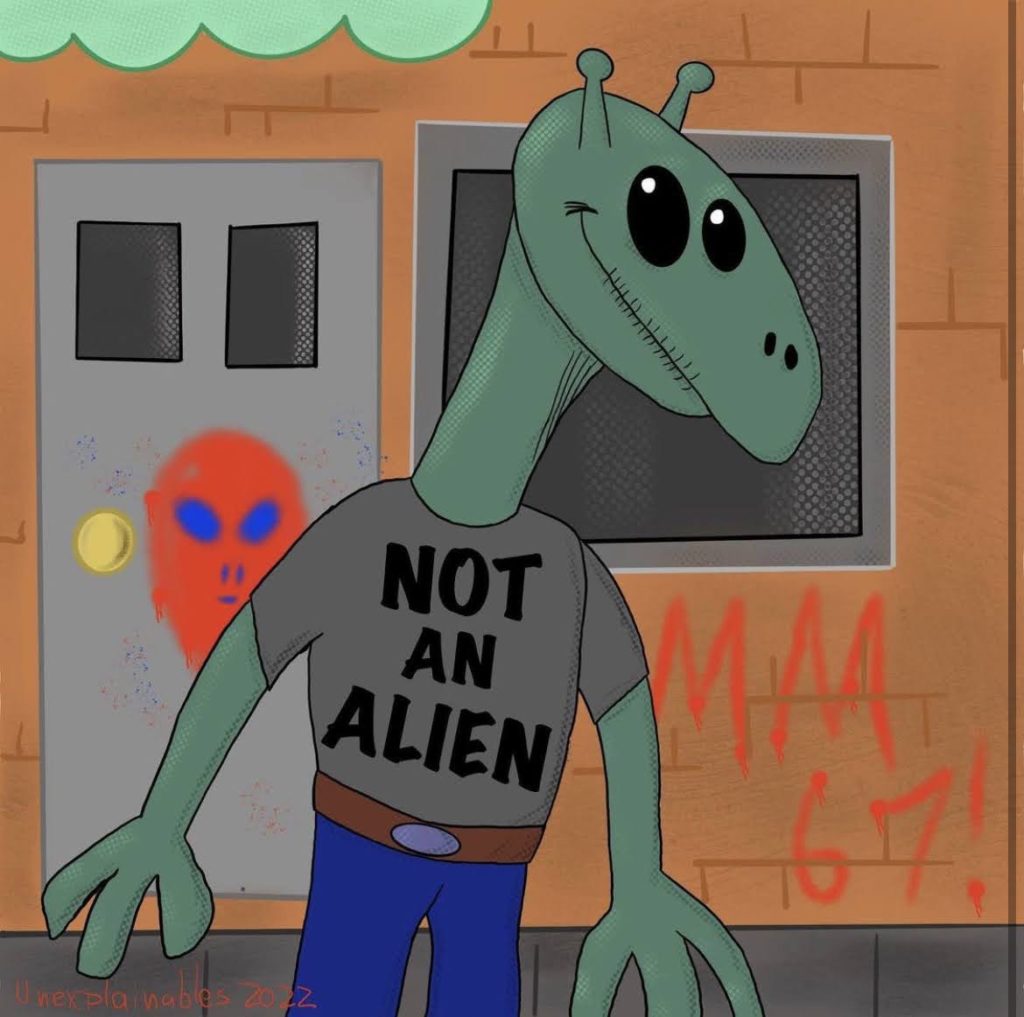 Last week, fruity pie was mentioned…ask and you shall receive, aerial friends! Bex will be whipping up a small pie, filled to the brim with as many fruits that can fit without the taste becoming *funky*. Food offerings are the way to go!
Jeremy is currently on vacation, and has unreliable service – we know he'll be watching the skies tonight though! Garrett and Bex will be going live for the weekly contact session per usual. We also have a friend reading oracle cards tonight on Twitter, and will share more information on that when it's time!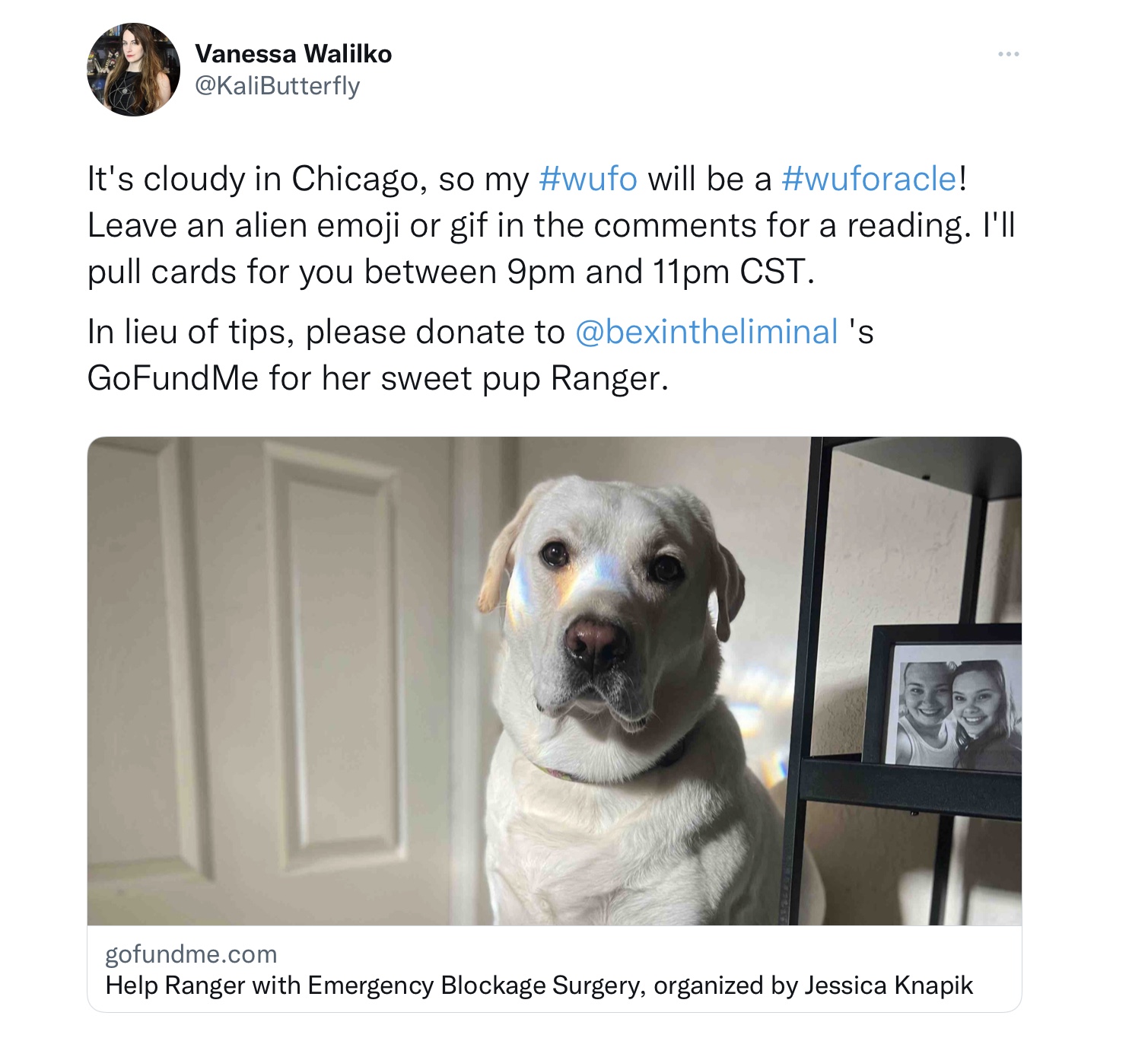 Check it out – Vanessa (@KaliButterfly) is reading oracle cards for folks on Twitter tonight, from 9:00 PM to 11:00 PM CST. Leave an alien emoji or GIF in the comments to receive a reading! She's asking that you donate to Ranger's GoFundMe as a "tip"! Make sure to give her a follow, y'all – she's a good one.
As always, we are conducting our weekly live contact session on TikTok and right here at 9:00 PM PST. Join us for some card pulls and an Estes Method session! You can RSVP for the TikTok stream here. If you're wanting to watch directly from this site, all you have to do click the video above when it's time!
Once 10:00 PM PST rolls around, we will head outside to look up, find Regulus and spend some time gazing at the sky. Bring plenty of snacks, blankets, and maybe some hagstone binoculars (if you just happen to have some around, like Jeremy). This concludes today's WUFO post – we are SO excited for tonight's watch! Who's going to be "looking up" with us?!