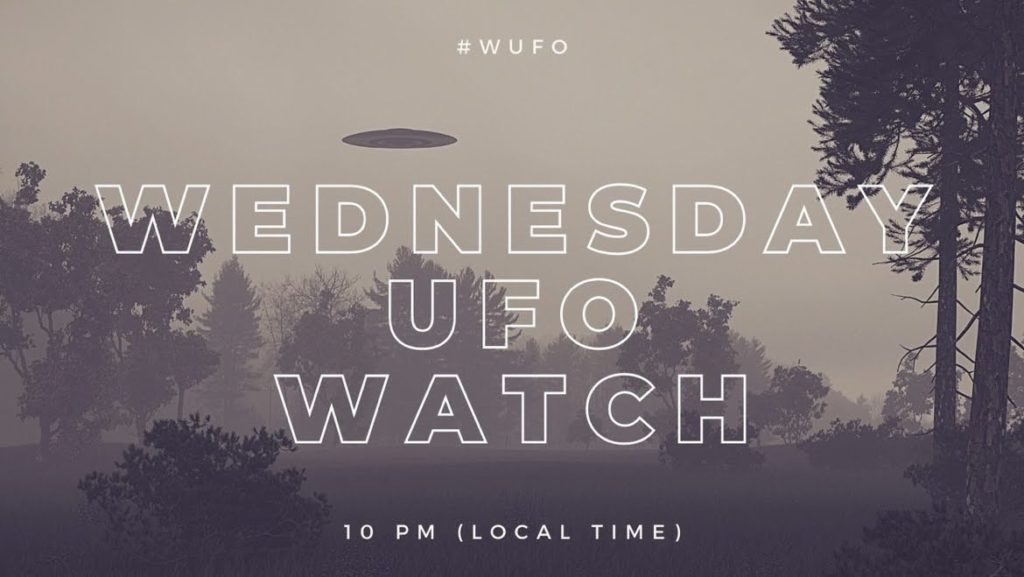 Welcome to #WUFO! This page will be updated throughout the week, so be sure to check back frequently. #WUFO is here once again – this is Week 9!
On Wednesdays (at 10 PM your local time), We Look Up! If you are new to us, just passing through, or have some questions, check out this article on #WUFO here.
For those returning, WELCOME BACK! In past posts, we shared info on exactly how this event started, and what folks can do to participate in case of inclement weather/inaccessibility (with links to virtual telescopes/live sky feeds/guided meditations for contact). You can read those posts here and here.
We have punch cards, a UFO water recipe, weekly astrology side quests, AND an official website: WUFO.WATCH!
Wanna add some "juice" to your #UFO magic? We're proud to present the OFFICIAL #WUFO sigil. We set our intention and created the sigil using the planetary square of Mercury (for communication) then added the symbol for the star Vega! Feel free to download and "Share and Enjoy!"
Also, keep your eyes peeled for sticker and shirt sales, coming very soon!
Join us LIVE on TikTok this Wednesday at 9:00 PM PST! You can RSVP here. Until then, check out our TikTok page for more videos on WUFO, weird oranges, HAM radio, and more! Use hashtag #WUFO on Twitter, IG, Tiktok, etc. to share what you're experiencing in real-time.
Stargazing Side Quest
Every week we'll also be featuring an astronomical side-quest from estimable astrologer Maighdlin Kelly! While you're looking at the sky, take a moment to get to know it better.
Maighdlin says:
"This week we will be looking for CASTOR & POLLUX in the Gemini constellation (top left of Orion)!
If you have trouble remembering which is Castor and which is Pollux, remember that Castor is closer to Capella (which we found last week) and Pollux is closer to Procyon (which we found the week before that)
Castor (yellow) and Pollux (white-ish blue) may look like they are together in the sky, but they are not gravitationally bound. And while Pollux may be the brighter twin in our night sky, Castor is actually SIX stars in one! The winter night sky is moving along as we head toward spring. By May the Gemini constellation will be on the horizon after sunset so we won't be able to spot these stars for 10PM #WUFO through the spring & summer. Let us know if you spotted the twins! Happy WUFOing!
Consider joining Maighdlin's Patreon here.
Last Week's Recap
Last week was extra cool! We hosted a special guest: Nick (California Creepypasta)! First, Jeremy led him through a variety of West Seattle liminal spots. Then Nick met up with Garrett and Bex in Bremerton. Together, they checked out this Chinese restaurant/bar where a visit of telepathic elf-like aliens had occurred some years back. Garrett used dowsing rods to try and find where exactly in the bar the beings had sat. Bex went under for an Estes Method session right outside of the doors. They even scored an interview with the owner, who claims various entities reside in her business. We created a TikTok series on this adventure, and you can view them here: Part 1, Part 2, & Part 3. 
From there, they made it back to Garrett's backyard for the weekly WUFO Live Contact Session! This one was interesting! Lots of cryptic language, that's for sure. Consider joining Liminal Earth's Patreon for just $1 to access the WUFO live archives if you'd like to watch this and past contact sessions.
After the live, they walked down to the nearby bay and gazed at the clear sky. 


We have a friend on Instagram who makes weekly WUFO art – this is last week's creation! So cool! Check out their profile here. 
Check out fellow WUFOers experiences from last week: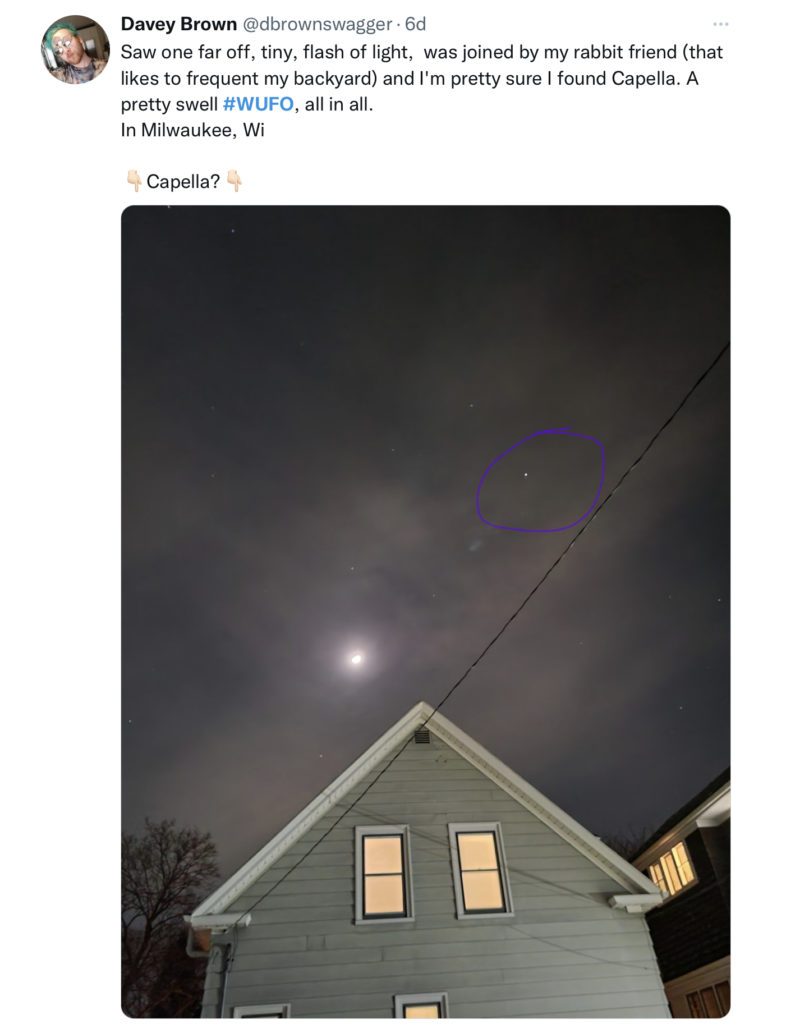 Tonight's Plan
We'll be making and bringing our shrines outside with us and using it for offerings, asking the aerial entities overhead to consider joining us for a chat. Maybe they'll even consider taking up permanent residence if we ask nicely and provide some yummy snacks! To learn more, go here. Jeremy made a TikTik on how to create a UFO Shrine, and you can watch it here. 
Don't forget to make your UFO water, leave food items as offerings for the beings, and gather plenty of blankets and lights. 
As always, we are conducting our weekly live contact session on TikTok at 9:00 PM PST. Join us for some card pulls and an Estes Method session! You can RSVP here. 
Once 10:00 PM PST rolls around, we will head outside to look up, find CASTOR & POLLUX, and spend some time gazing at the sky. Both Garrett and Jeremy are now the proud owners of handmade antennas for their HAM radios. They can reach 30+ miles with a 5/5 quality rating. Imagine using that when seeing a UFO – who knows what may respond?!
Long term, we're looking to host a live stream feed right on the home page of this very website. We want folks from all over the world to be able to share their skies/experiments/sightings – live! 
Bring plenty of snacks, blankets, and maybe some hagstone binoculars (if you just happen to have some around, like Jeremy). This concludes today's WUFO post – we are SO excited for tonight's watch! Who's going to be "looking up" with us?!